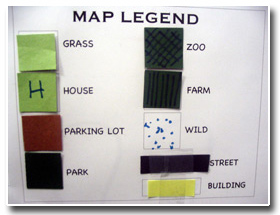 Our Philosophy
A leader in child-centered, experiential education, Cobblestone opened its doors in 1983 as a progressive alternative to the more traditional public, private, and faith-based schools available in Rochester. The school's philosophy is grounded in the work of American educational and social reformer, Dr. John Dewey, and is further informed by the initiatives of Dr. Theodore Sizer, a leader of U.S. educational reform and the founder of the Essential Schools movement. Cobblestone is an Affiliate of the Coalition of Essential Schools, and a Voting Member of the National Coalition of Alternative Community Schools.
Cobblestone School offers a small, personalized learning community, where teachers and students know each other well in a climate of trust, decency and high expectations for all. Modeling democratic practices with a strong commitment to equity, Cobblestone focuses on helping all its students use their minds well through standards-aligned interdisciplinary studies, community-based "real-world" learning opportunities, and performance-based authentic assessment. At Cobblestone School, children's social, emotional, and ethical growth is considered as important as their intellectual growth.
Cobblestone is unique among schools in the greater Rochester area, and has a respected history as a differentiated educational institution. While a number of other public and charter schools offer set Expeditionary Learning curricula (based on the Outward Bound hands-on learning model), Cobblestone is the only local school to engage its own students in developing new central topics (or "themes") each semester, allowing teachers to build original interdisciplinary, project oriented, contextual study units based on subjects of intrinsic interest to each class. According to Multiple Intelligences Theory, this learner-centered approach to education helps students learn with less effort, retain what they have learned longer, and apply what they have learned more readily to other areas of their lives.
Beginning in 2010, Cobblestone further plans to embed its curriculum in a Service Learning approach. Service Learning is an experiential method of teaching, learning and reflecting that combines the academic classroom curriculum with meaningful service throughout the community to enrich the overall learning experience, teach civic responsibility, encourage lifelong civic engagement, and strengthen communities for the common good. Service Learning fully aligns with the goals of progressive education and the Essential Schools movement. Cobblestone is fortunate to count Dr. Lynn Donahue among the parents in its community. Dr. Donahue heads St. John Fisher College's Service Learning Initiative, and she is consulting with Cobblestone to develop our model and mentor our teachers.
Children develop at different rates and have different learning styles. Cobblestone nurtures these differences, with its low student to teacher ratio (approximately 12:1), mixed-age divisional groupings, and focus on teaching to multiple intelligences.
Children's interests and motivations are important for active learning. Cobblestone's curriculum evolves out of the children's questions, interests and personal experiences. Self-direction is encouraged.
Children need to be able to make as many connections as possible in learning. Our students and our teachers thrive on interdisciplinary exploration and integrated, open-ended learning situations.
The child's social, emotional, intellectual, physical, aesthetic and ethical growth are interwoven. Cobblestone nurtures all facets of a child's life and the curriculum tries to give equal attention to each.
Learning is an ongoing process in the course of which skills are developed. Cobblestone encourages learning for its own sake, offering integrated learning experiences where skills are taught within a meaningful context.
Risk taking and making mistakes are important aspects of learning. Cobblestone promotes self-confidence through a balance of individual and collaborative learning experiences in a non-competitive atmosphere where children feel free to challenge themselves.
In children, learning moves from the concrete to the abstract. Cobblestone offers a wide variety of enrichment experiences with opportunities for experimentation, observation, discovery, reflection, and discussion.
Children learn and thrive within a safe, secure and responsive community. Cobblestone is a small, friendly school where caring and knowledgeable adults are concerned with children's emotional well-being as well as with their intellectual growth.
Children learn from other children. Our teachers function as a team so children may be grouped in a variety of ways throughout the day. This encourages children of all ages to work and play together.